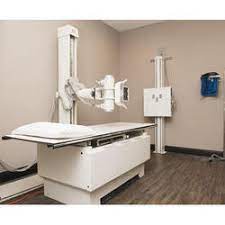 Digital X-ray Market is expected to grow at a high CAGR of 7.5% during the forecasting period (2021-2028).
Beaver Dam, Wisconsin Aug 23, 2021 (Issuewire.com) - Market Overview
Digital X-ray is the x-ray imaging in which digital X-ray sensors are used rather than traditional photographic films. The digital x-ray has the ability to transfer images digitally to enhance them for better visibility and are time efficient. This form of imaging bypasses the chemical processing of photographic films. Digital X-ray imaging has huge demand, as it requires less radiation exposure compared to traditional X-rays.
View full report: https://www.datamintelligence.com/research-report/digital-x-ray-market
More On Primepresswire ::
Market Dynamics
The global digital X-ray market growth is driven by several factors such as the increasing geriatric population and the subsequent growth in orthopaedic diseases and cancer incidence, favourable government initiatives & investments, the advantages of digital X-ray systems over conventional X-ray, and technological advancements and product development.
Digital X-ray systems have several advantages over traditional X-ray systems, such as higher quality of images, reduced image acquisition times, decreased exposure to radiation, and easy image interpretation. On average, traditional X-ray systems require about 15 minutes per examination, while digital X-ray systems need around two minutes per screening. Hence, digital x-ray allows for a more number of patients to be screened in less time. Other advantages of digital imaging are cost-effectiveness and easy accessibility. The images are immediately available for distribution to the clinical services in no time, and the physical effort needed to retrieve film packets, and reviewing previous imaging on a patient is comparatively much less. Digital X-rays expose about 75% less radiation than traditional X-rays which is beneficial for long-term health pregnant women or patients who are already suffering from illness. Also, with the help of digital X-rays, dentists can now quickly recognize oral problems. All the factors mentioned above are currently augmenting the growth of the digital X-ray devices market.
In addition, the emerging AI-based digital X-ray systems are also expected to provide a wide range of growth opportunities for players over the forecast period. Artificial Intelligence has a large number of applications in the management of patient information related to diagnosis and treatment. AI helps physicians to incorporate the information into meaningful disease diagnosis and patient care. AI not only diagnose patients in the absence of doctors but also augment doctors' abilities and find and collate key relevant data for patient care. In May 2018, Siemens Healthineers partnered with ScreenPoint Medical to develop AI-based applications for breast imaging.
The major players are developing advanced portable and battery-operated handheld X-ray technologies to meet the needs of clinicians. Manufacturers are highly investing by collaborating with other players to expand their portfolio globally. For instance, in June 2020, Nanox, a startup working on a "digital X-ray system," landed an additional US$20 million in new funding, bringing the company's total funding to $80 million. The new infusion of cash came from the South Korean company SK Telcom.  This comes just months after the Israeli company announced a $26 million raise led by Foxconn. This new investment also comes with a partnership agreement between Nanox and SK Telcom. The two companies are working together to deploy 2,500 Nanox Systems into South Korea and Vietnam. Nanox is also planning to launch a wholly-owned subsidiary in South Korea focused on producing the Nanox X-ray source semiconductor with tech support from SK Telcom.
However, the high cost of digital X-ray systems is one of the major factors hampering the growth of the market. Most of the small and medium-sized hospitals cannot afford these expensive systems, as their budgets are restricted. The healthcare facilities which purchase such expensive systems depend on third-party payers (such as Medicaid, Medicare, or private health insurance plans) for reimbursements of costs incurred in diagnostic, screening, and therapeutic procedures.
In the global COVID-19 pandemic, global companies are increasing their efficacy in radiographic support solutions. For instance, in March 2020, Dexcowin, a supplier of cutting-edge portable handheld X-ray systems, announced the launch of its COVID-19 radiographic support solutions that help to overcome ergonomic limitations of conventional, fixed x-ray imaging systems.
Segment Analysis
By Product
Computed Radiography
Direct Radiography
By Portability
Portable X-Ray Systems
Fixed Digital X-Ray Systems
By Application
Dental
Mammography
General Radiography
Fluoroscopy
Others
By End-User
Hospitals
Diagnostic Centers
Others
Download free sample: https://www.datamintelligence.com/download-sample/digital-x-ray-market
Geographical Analysis
North America region is dominating the global digital X-ray market accounted for the largest market share in 2019, owing to increasing demand for imaging due to rising orthopaedic and cancer incidences, technological advancements in the devices, and large presence of major players with new product development and expansion globally. In addition, increasing research & development activities to provide AI in different imaging modalities, including digital X-ray systems, is driving the market growth. For instance, in March 2018, Google Cloud researchers, at the EmTech Digital conference in San Francisco, suggested that entire processes in medicine, such as analyzing radiological images could be automated using AI. At the Health Information and Management Systems Society (HIMSS) annual conference 2017, different manufacturers of digital X-ray products presented the use of AI in different modalities. Philips, IBM/Merge, Agfa, and Siemens have started integrating AI into their medical imaging software systems.
Asia Pacific digital x-ray market is expected to grow at the fastest CAGR during the forecast period, due to the growing geriatric population, rising prevalence of target diseases, increasing disposable incomes, allowing for greater affordability to advanced technologies, and rising government initiatives. Several conferences and trade fairs have also been organized in Asia to build awareness towards the radiology and digital imaging equipment, such as the Radiology Asia conference which was held in Singapore in May 2017. Such programs are driving the market for digital imaging systems in the Asia Pacific region through foreign investments, collaborations, and partnerships. Also, in April 2018, Konica Minolta, Inc. (Japan) launched KDR Primary Digital Radiography System.
Competitive Landscape
The digital X-ray devices market is consolidated, and a few companies are currently dominating the market. These companies include Carestream Health Inc. (Onex Corporation), Hitachi Medical, Philips Healthcare, Hologic Corporation, GE Healthcare, Koninklijke Philips NV, Fujifilm Holdings Corporation, Siemens Healthineers, and Canon Medical System Corporation (Toshiba). The competition in the market is majorly based on technological advances and the pricing of digital X-ray equipment. The major players are adopting several growth strategies such as product launches, acquisitions, and collaborations, which are contributing to the growth of the digital X-ray market globally. For instance,
In January 2019, Trivitron Healthcare launched 10 new innovation-driven products in Advanced Imaging modalities and Critical Care & Life Support segment, at Arab Health 2020 conference in Dubai. The new products launched include Elite - Flat Panel Digital C-arm with motorized movements, SonoRad V10 - Color Doppler Ultrasound System, Breast Imaging solutions, Ventilators, Dialysis systems & consumables, Modular OT solutions, Monitors, ECG, Syringe pumps, and Anesthesia systems.
In July 2018, Hologic acquired Faxitron Bioptics. Faxitron Bioptics is a leader in digital specimen radiography. This acquisition enabled Hologic to expand its interventional breast business.
Related Topic's
Dental Digital X-ray Market, Portable X-ray Devices Market, Portable X-ray Devices Market
Media Contact
DataM Intelligence
+18774414866
India
Source :DataM Intelligence
This article was originally published by IssueWire. Read the original article here.